This line intentionally left blank. 
The UW Department of Bioengineering is pleased to announce our
2022 UW BioE Graduation Celebration
Date: Wednesday, June 8
Doors open at 11:30 am
Start time: 11:45 am
End time: 2:30 pm
This event will also be live-streamed on the Bioengineering department's YouTube channel for the benefit of family and friends who cannot join us in person. Watch the live-stream on the UW BioE YouTube channel.

We are excited for the 2022 UW BioE Graduation Celebration, where we will welcome the Class of 2022 and recent graduates back to campus to celebrate in person! Graduates from the Classes of 2020, 2021 and 2022 are all invited to participate in this BioE event.
What COVID-19 protocols are in place for this event?
Attendees are encouraged to take a COVID-19 viral test prior to the event. Testing before gathering with others can help prevent COVID-19 transmission. Testing within 72 hours of an event is recommended if using a PCR test, testing day of the event is recommended if using a rapid antigen test.  Testing 3 to 5 days after attending an event is also encouraged.
If anyone has current COVID-like symptoms on the day of the ceremony (such as fever, cough, shortness of breath, headache, sore throat, runny nose), we ask that they please do not attend, regardless of negative COVID test. Those with any symptoms, or those who have been instructed to isolate or quarantine by a public health professional, should stay home and watch the live-stream of the event as described below.
We strongly recommend and encourage COVID-19 vaccinations before attending.
We strongly recommend and encourage the use of face coverings.
We recommend and encourage use of the WA Notify smartphone app.
Hand sanitizer will be available.
When should I arrive?
The start time for our celebration is 11:45, and the doors will open for seating at 11:30.
Graduating students: Check-in will begin at 10:30 in the lobby of Kane Hall. You will be directed to your line-up area.
Faculty: Please check in by 11:15.
Please note:                                                                                                                                                                                                                                         Food and drinks are prohibited inside Roethke Auditorium.
Where can I park?
If you or your guests are driving to campus, please note that parking permits are required and can be requested early through the UW commencement website. Please refer to the site for more details: http://www.washington.edu/graduation/parking-2/
Will the event be live-streamed on the internet?
We have arranged for this event to be live-streamed on the Bioengineering department's YouTube channel for the benefit of family and friends who cannot join us in person. Watch the live-stream on the UW BioE YouTube channel.
2022 BioE Keynote Speaker
Kathy Leach, Ph.D., Vice President and Head of CMC, Aruvant Sciences, Inc.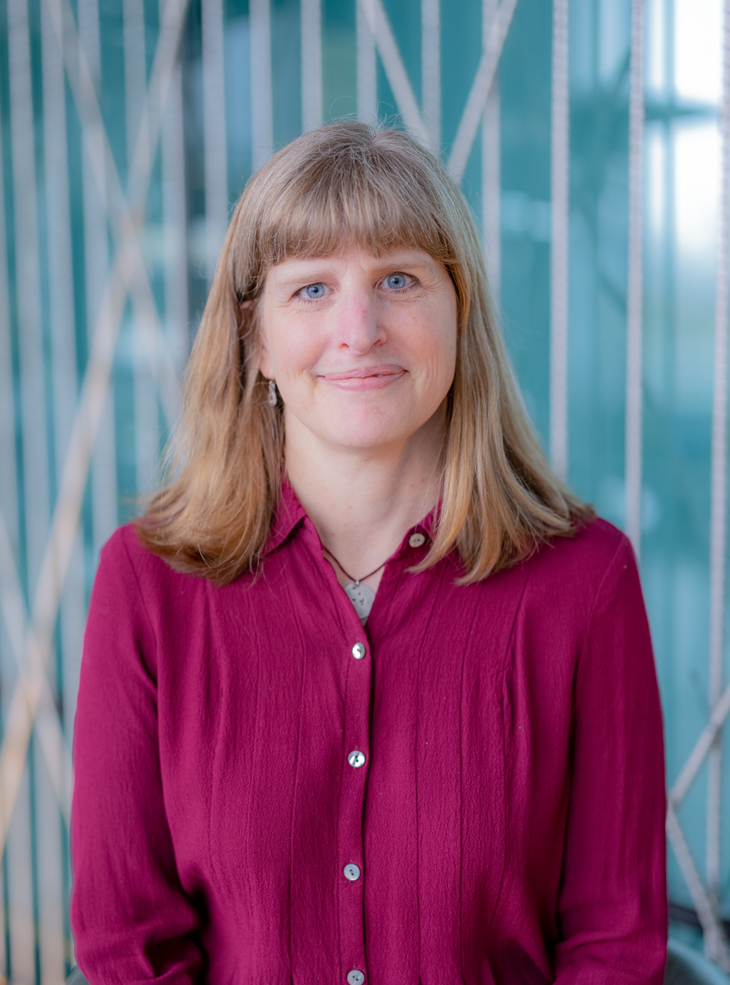 Kathy Leach is currently Vice President and Head of CMC at Aruvant Sciences. Since joining Aruvant in March 2019, Kathy has been instrumental to process and analytical method development for Aruvant's investigational cell and gene therapy products for the treatment of rare diseases. The company's lead product is ARU-1801, a lentiviral vector-engineered hematopoietic stem cell product, currently in a clinical trial as a potential one-time curative treatment for sickle cell disease. In her role as Head of CMC, Kathy leads a team of scientists and engineers in collaboration with 11 contract manufacturing and/or testing organizations to bring these important therapies through development. She also represents the company in interactions with health authorities including the US Food and Drug Administration and the European Medicines Agency.
Prior to joining Aruvant, Kathy spent approximately 20 years as a scientist and leader in the biotechnology industry. She started her career as a bench scientist at Immunex Inc. (later acquired by Amgen) and later then progressed to various leadership roles within Quality and Process and Product Development. Kathy left Amgen after 15 years of service to join Juno Therapeutics, a Seattle-based cell & gene therapy company, supporting the progression of their CAR-T products through the clinic and toward commercial licensure. At Juno, Kathy served in various functional leadership roles in the CMC space (Quality, Process & Analytical Development, and Operations). In the fall of 2018, Kathy started an independent consulting company, CMC & Quality Services LLC, supporting both small and large companies in the cell & gene therapy industry.
Kathy has a Ph.D. in Biology from Brown University and a B.S. in Chemical Engineering from MIT. After her PhD, she joined the UW Bioengineering department as a postdoctoral researcher in the UW Engineered Biomaterials (UWEB) program, which focused on the study of biomaterials with engineered surfaces to direct the process of healing.
The 2022 ceremony will feature:
Welcome remarks by Dr. Princess Imoukhuede, professor and Hunter and Dorothy Simpson Endowed Chair in Bioengineering
Keynote Speaker address by Kathy Leach, Ph.D., Vice President and Head of CMC, Aruvant Sciences, Inc.
Remarks by student representatives from our bachelor's, master's and Ph.D. graduating classes

Nuttada Panpradist, doctoral student speaker
Maddalena Di Piazza and Aashik Raman, master's programs student speakers
Timmy Vu Pham, bachelor of science student speaker

Individual recognition of each graduate by:

Dr. Patrick Boyle, assistant professor of bioengineering
Dr. Azadeh Yazdan-Shahmorad, Washington Research Foundation Innovation Assistant Professor of Neuroengineering in the bioengineering and electrical engineering departments
Dr. Robbie Wong, PharmD, FASHP, FSCHP, affiliate assistant professor of bioengineering, co-director of Master of Pharmaceutical Bioengineering Program
Ms. Soraya Bailey, assistant teaching professor, director of Master of Applied Bioengineering Program
Dr. Christopher Neils, senior lecturer in bioengineering, departmental curriculum committee chair, chief technical officer for the Master of Applied Bioengineering Program

A slideshow/video with fun and memorable student pictures
We look forward to celebrating with you!
The 2022 University of Washington Commencement Ceremony will take place on the afternoon of Saturday, June 11, at Husky Stadium.  For more information, please visit the Commencement website.
For those who completed degrees in 2019-2020 (Class of 2020) and 2020-2021 (Class of 2021), the Return to Husky Stadium Graduation Celebration will take place on Sunday, June 12, at Husky Stadium.