Project Description
Associate Teaching Professor
actaylor@uw.edu
Phone: (206)543-8533
Office: Foege N430L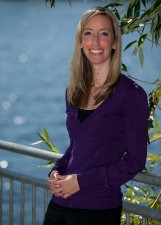 I educate future bioengineers, who will contribute to the development of new healthcare technologies and help solve today's medical challenges.
Curriculum design
Optimizing student learning outcomes through educational research
My teaching activities focused on developing, implementing, and evaluating core introductory and laboratory courses for bioengineering undergraduates, as well as co-facilitating the Capstone Design sequence. Currently pursuing continuous program improvement activities as well as educational research, with the ultimate goal of optimizing undergraduate bioengineering curriculum design and student learning outcomes.
PhD, Biomedical Engineering,University of Virginia, 2010
BS, Biological Systems Engineering, University of California, Davis, 2003
2017 Association for Women in Science (AWIS) Award for Excellence in Science Education, Seattle Chapter
2013 Bioengineering Award for Outstanding Teacher/Mentor
2011 National Effective Teaching Institute Workshop nomination
2011 ASEE Pacific Northwest Section Conference Travel Award
2010 Best Paper Award for Biomedical Engineering Division at American Society for Engineering Education (ASEE) Conference
BIOEN 215: Introduction to Bioengineering Problem Solving
BIOEN 337: Mass Transport and Systems Laboratory
BIOEN 403: Bioengineering Capstone Research
BIOEN 405: Team Design II
Co-instructor of Bioengineering Capstone program
D.G. Hendricks, A.C. Taylor and S. Pulford. "Implementation of Peer Review to Enhance Written and Visual Communication Learning in Bioengineering Capstone Reports" Proceedings of the 2017 American Society for Engineering Education Annual Conference, Columbus, OH. Paper ID #19434. (2017)
A.C. Taylor and S. Pulford. "Visual Communication Learning through Peer Design Critiques: Engineering Communication Across Divisions" Proceedings of the 2015 American Society for Engineering Education Annual Conference, Seattle, WA. Paper ID #12333. (2015)
D.G. Hendricks, L. Pick, and A.C. Taylor. "Bioengineering Global Health: Design and Implementation of a Summer Day Camp for High School Students" Proceedings of the 2015 American Society for Engineering Education Annual Conference, Seattle, WA. Paper ID #12283. (2015)
A.C. Taylor. "Use of Case Studies and a Systematic Analysis Tool to Engage Undergraduate Bioengineering Students in Ethics Education" American Society for Engineering Education (ASEE) Conference, San Antonio, TX. Fully Refereed. (2012)
A.C.Taylor, K.J. Nichols, L.E. Wright, and C.M. Neils. "An Investigation of Bioengineering Undergraduate Curriculum: Methods for a Comprehensive Analysis" ASEE Conference, Vancouver, B.C. Fully Refereed. (2011)
A.C. Taylor, K.E. Mason, A.L. Peirce Starling, T.E. Allen, and S.M. Peirce. "Impact of Team and Advisor Demographics and Formulation on the Success of Biomedical Engineering Senior Design Projects" ASEE Conference, Louisville, KY. Fully Refereed. (2010)