"Engineering Synthetic Cells for Bioproduction, Biomedicine and Bioenergy"
Speaker Details:
Dr. James Carothers
University of Washington, Dept. of Chemical Engineering
Lecture Details:
April 15, 2021
12:30 p.m. - 1:20 p.m. PDT
Dan Evans Career Development Associate Professor of Chemical Engineering
Register for this Webinar

Abstract:
Synthetic cell systems powered by cell-free transcription-translation are arising as promising platforms for basic science and a wide range of advanced applications. With our collaborators, we are creating cell-free and synthetic cell systems for plant-derived drug biosynthesis, antibody diagnostics, and biocomputing.  Our most recent efforts have focused on engineering versatile CRISPR-based gene regulatory networks capable of programming complex, dynamic functions in cell-free systems.  In my talk, I will present our newest results and outline a vision for developing self-assembling synthetic cells for bioproduction, biomedicine and bioenergy.
Speaker Bio:
The Carothers Research Group at the University of Washington integrates computational modeling, CRISPR-Cas network engineering and RNA aptamer biosensor design for applications in synthetic biology. The broad goal of the group is to develop genetic control systems and engineer microbes and cell-free systems to provide new sources of  industrially- and medically-important chemicals and materials.  At the University of Washington, James is the Dan Evans Career Development Associate Professor of Chemical Engineering, Adjunct Associate Professor of Bioengineering, and Member of the Molecular Engineering & Sciences Institute (MolES) and Center for Synthetic Biology.  Previously, James was a postdoctoral fellow with pioneering synthetic biologist Jay D. Keasling at UC Berkeley and the DOE Joint BioEnergy Institute.  He was a graduate student at Harvard, where he earned a Ph.D. with Nobel Prize winner Jack W. Szostak, and has a B.S. in Molecular Biophysics and Biochemistry from Yale.  He has received the University of Washington Presidential Innovation Award and the Alfred P. Sloan Research Fellowship. He has been the lead PI on >$5M of grants and work in the group is currently supported by the DOE, NSF and private industry.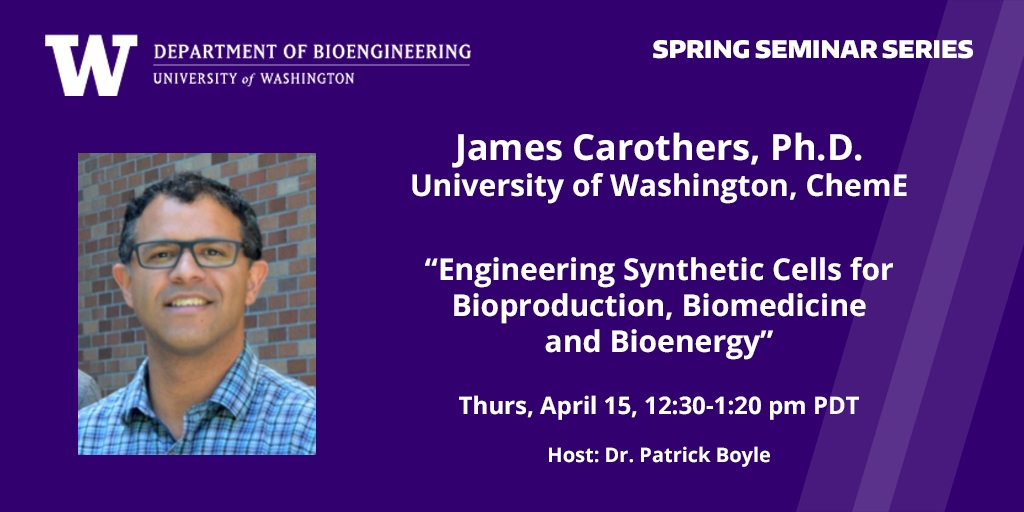 Share This Story, Choose Your Platform!