UW Bioengineering's diverse cadre of faculty focuses on the most exciting and challenging areas for future growth in the field, and those with the greatest potential for improving lives.
Because UW Bioengineering is based in both the UW School of Medicine and the UW College of Engineering, our collaborations feature rich contact with colleagues; privileged access to facilities, labs and clinics; and a culture of openness.
Read more about our research themes:
Biomaterials and Regenerative Medicine
Instrumentation, Imaging and Image-Guided Therapy
Molecular and Cellular Engineering
Neural Engineering
Systems, Synthetic and Quantitative Biology
Technology for Expanding Access to Healthcare
Biomaterials & Regenerative Medicine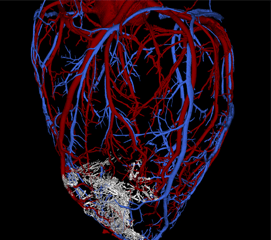 A central theme in bioengineering is the repair and replacement of human tissues damaged by injury, aging and illness. This field bridges UW Bioengineering's historical strength in developing non-living biomaterials with new approaches based on engineering of the living tissues themselves. UW Bioengineering's research in this field addresses cardiovascular disease, transplant rejection, wound healing, prevention of bacterial infection, improved prosthetics, and engineering of active neural systems.