Professor
ghp@uw.edu
Phone: (206) 685-1880
Office: Foege N210A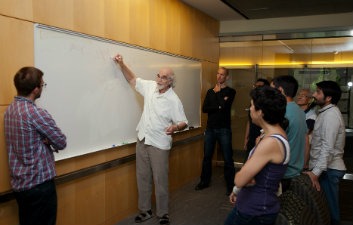 Gerald Pollack
My laboratory has discovered that water has a fourth phase, which has a central role in human health.
Water
Surfaces
Materials, health
Exclusion zones
Energy
Muscle
Cell biology
We study water. Our recent discoveries have shown that water has four phases, not three. The findings are summarized in a recent book
http://www.ebnerandsons.com
and in many presentations that can be found on the web. We are exploring the role of the fourth phase of water in all of nature, particularly in human health.
PhD, Biomedical Engineering, University of Pennsylvania, 1968
BS, Electrical Engineering, Polytechnic Institute of Brooklyn (NYU), 1961
Tau Beta Pi Kulka Award, 1961; Eta Kappa Nu Kulka Award, 1961
Polytechnic Institute Merit Key; Engineering Honor Societies (Eta Kappa Nu, Tau Beta Pi)
Established Investigatorship, American Heart Association, 1974-79
Who's Who in America; American Men and Women in Science; Who's Who in the World
Board of Directors, Bioengineering Society, 1977-79; Cardiovascular-Pulmonary Study Section, March, 1979, 1980
Editorial Boards: J. Mol. & Cell Cardiol., 1975-80, Am. J. Physiol. (Heart and Circ Physiol), 1975-80; Circ. Research, 1982-1989; and Cell Biology International, 2005- ; Molecular and Cellular Biomechanics, 2007-
Honorary member, Romanian Muscle Society, 1992
Excellence Award, Society for Technical Communication, 1992 (for book, Muscles & Molecules)
Founding Fellow, American Institute of Medical and Biological Engineering, 1993
Consultant, Whitaker Foundation, 1996-2006
JSEM Scientific Paper Award, 1998
Fellow, American Heart Association, 2001
Inaugural Fellow, Council on Basic Cardiovascular Sciences, AHA, 2001
Invited Scholar, Institut des Hautes Etudes Scientifiques, Paris, 2002
Distinguished Lecturer Award, Biomedical Engineering Society, 2002
International Scientist of the Year (IBC), 2002
Honorary Doctorate, Ural State University, Ekaterinburg Russia, 2002
Distinguished Award, Society for Technical Communication (for book, Cells, Gels and the Engines of Life) , 2003
Merit Award, International STC competition for book, above, 2003.
Chair (joint, founding), Gordon Research Conference on "Interfacial Water in Cell Biology" 2004.
Honorary Professor, Russian Academy of Sciences, 2005
Fellow, Biomedical Engineering Society, 2005
National Science Board Task Force for Transformative Research, Advisor, 2005-2006
Annual Conference on the Physics, Chemistry, and Biology of Water, Inaugural Chair 2006; Chair, 07, 09, 10, 11,12.
University of Washington Annual Faculty Lecture 2008. Selected uniquely from all UW faculty
Founding Editor-in-Chief, WATER: A Multidisciplinary Research Journal
NIH Director's Transformative Research Award, 2009
Chair, US-Israel Binational Science Foundation Panel on Transformative Research, 2011
Martin Hellsten Surface-Chemistry Award, AkzoNobel Chalmers 2011
Prigogine Medal, 2012
TEDx, 2012
Academy of Science, Srpska, Foreign member and Academician, 2012
Director, Institute for Venture Science, 2013
Distinguished Award, Society for Technical Communication (for book, The Fourth Phase of Water), 2014
Scientific Excellence Award, World Academy of Neural Science, 2014
International Summit Award of Excellence, STC 2014.
Dinsdale Prize, Society for Scientific Exploration, 2014
BIOEN 290 – Guided Independent Studies on Transformative Science
BIOEN 299 – Bioengineering Seminar – Introduction to Bioengineering
Pollack, G.H., Cameron, I., and Wheatley, D., Water and the Cell. Springer, 2006.
Pollack, G.H. and Chin, W.-C. Phase Transitions in Cell Biology, Springer, 2008.
Pollack, G.H.: The Fourth Phase of Water: Beyond Solid, Liquid and Vapor. Ebner & Sons, 2013
Ienna, F, Yoo, H. and Pollack GH: Spatially Resolved Evaporative Patterns from Water Soft Matter, 8 (47), 11850 – 11856, 2012
Klyuzhin, IS, Ienna, F, Roeder B, Wexler, A and Pollack GH: Persisting Water Droplets on Water Surfaces. J. Phys Chem B 114:14020-14027, 2010.