The Four-iers of Bioengineering Podcast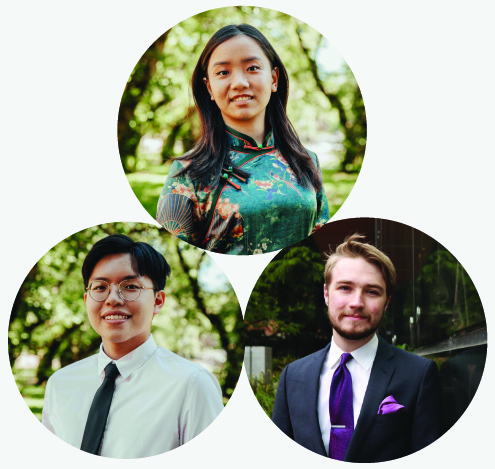 I was motivated to talk about the mental and physical health challenges because these topics are rarely discussed in the BioE setting.
I didn't know a lot about the bioengineering department when I entered it. I thought the podcast could help students learn more about the program and decide which major to pursue.
The Making of the Four-iers of Bioengineering Podcast
As part of a UW BioE honors seminar project, four seniors created a podcast between autumn 2020 and spring 2021 called Four-iers* of Bioengineering about their experience with the bioengineering major. In the podcast, Charlie Bohlin (BioE'21), Thinh T Do (BioE '21), senior Naomi Messele and Natalie Kai Yi Yap (BioE and Dance '21) discuss several topics, including the application process, things they wished they had known before applying for the major, how BioE's core classes differed from their prerequisite classes, and how they coped with the mental health challenges of being a student, especially during the pandemic.
Charlie is currently working as a bioengineer at OtoNexus in Redmond. Thinh, who is completing his dental prerequisites to apply to dental school at the UW and Natalie, who is working at Harborview Medical Center as a clinical research coordinator under Dr. Christoph Hofstetter, took some time to talk about the podcast.
What inspired you to start the podcast?
Natalie:  When we got involved in this podcast COVID had started shutting things down and we were in limbo with our education and our social interactions. We were feeling uncertain about our environment in the pandemic. I was motivated to talk about the mental and physical health challenges because these topics are rarely discussed in the BioE setting. Moreover, the pandemic-induced seclusion motivated me to begin a conversation surrounding such topics to help people feel connected with each other.  Many of us strive for excellence in the bioengineering department. The way we cope with challenges and the methods we use to take care of ourselves are different; we usually don't put our health first. By creating a podcast, fellow students could share their unique experiences and hopefully inspire, motivate and teach other students.
Thinh:  I didn't know a lot about the bioengineering department when I entered it. I thought the podcast could help students learn more about the program and decide which major to pursue.
What is the focus of the podcast?
Natalie:  The first one or two episodes are centered on the process of choosing a major and applying to bioengineering. We also discuss whether the major would be a good fit for interested students. In the fourth episode we talk about how to take care of yourself once you're in the department and how not to burn out. Another focus is to help students by providing resources about the program.
Thinh:  One other thing we talked about is our experiences in the core classes and how to study for them to do well in the classes.
Who is your intended audience?
Natalie:  The podcast is for people who are considering the bioengineering program and those who are already in BioE. There are some topics that are relatable for engineering students because we mention certain courses that are required across the board for engineering students. People choosing other majors can learn what goes into selecting a major from the podcast. We discuss our own thought processes on how we chose our major which will hopefully help potential students choose the major that is right for them.
What do you hope people will take away from the podcast?
Natalie: It is okay to find yourself in a major you dislike. You just discovered something that will help you narrow down an area you are more interested in and make more informed decisions in the future.
Thinh:  I'm hoping our fellow peers in the major aren't alone in their struggles. We talk about our mental health. We hope students who aren't yet in the major consider their choices first and reach out for resources before applying to ensure it's the right fit for them.
Is there a particular podcast or question(s) you especially like or want potential listeners to know about?
Thinh:  I really liked discussing the admissions process topic and how each of us decided to choose this major in episode 1. I hope that pre-major students can use the podcast as a resource as well as the resources mentioned in the episodes so they can make a more informed decision when choosing a major. I wish that I had looked into what it is like being a bioengineering student prior to applying. It turns out Bioengineering was a very good major and taught me how I can apply engineering skills to medical problems, a skill useful for my future in dentistry. I really enjoyed how diverse the engineering courses were. For someone who still wasn't sure what they were going to do after graduation, bioengineering exposed me to a lot of other engineering fields such as electrical, mechanical, and chemical engineering as well as some coding.
Natalie:  The question that stood out for me, was how we felt about choosing BioE as a major. The answers from those interviewed were varied and that could help guide listeners to a career that might suit them better. There were many topics that were part of the bioengineering curriculum that I had difficulty understanding such as the many electrical engineering concepts we had to learn. But it was because of the BioE major, I was able to go into neurological surgery research which has to do with the anatomy and nervous system of the human body (my favorite topics). I'm glad I chose a bioengineering degree versus other degrees because I learned so much, was challenged and learned what I like and don't like through this degree.
Episode 1: Before BioE
What made you want to apply to BioE?
Were you in any clubs (ex. Bioengineers Without Borders) prior to entering BioE?
Did you reach out to advisers or other BioE faculty?
The application process:
What was the application process like?
How many times did you apply?
What cycle did you get in? (Direct, Early, Upper)
Were you pre-engineering or another pre-major?
How was the admission process different for each of us?
What struggles did we have to go through to apply to the department?
Episode 2: After applying
Is this major the right fit?
What were some things we wished we knew?
How did your perception of BioE change after entering the major?
Episode 3: Perception of the department/expectations /actuality of bioengineering
How did you feel prior to entering core? Did you feel prepared?
How did your core classes differ from your prerequisite classes?
How did things like class environment, types of assignments, mental health/stress, etc. differ?
Episode 4: Lessons learned/overall view on bioengineering
What was the hardest aspect of core that you had to overcome?
How did your habits change after entering core?
Did going through core affect your mental health? How did you cope with it?
Did the department's efforts in helping students deal with stress help? (Ex. mental health presentation in BIOEN 325 or Chinook).
What surprised you the most about core?
What resources do you wish were available to you prior to starting core to help make the transition go more smoothly?
Anything else you would like to share?
Natalie: Now that most of us have graduated other students can continue the podcast and take it under their wing.  We created a manual with information on how to record episodes. It's not difficult, you just need headphones, a basic electronic microphone and your laptop.
Thinh:  There were a lot of topics we couldn't cover because we didn't have enough time. It would be great if other students created additional episodes with other topics.
* The podcast name is a play on words and comes from the Fourier Theorem. The Theorem states that a periodic function f(x) which is reasonably continuous may be expressed as the sum of a series of sine or cosine terms (called the Fourier series), each of which has specific amplitude and phase coefficients known as Fourier coefficients.
Glossary
Key to the acronyms used in the podcasts.
ChemE – Chemical Engineering
MechE – Mechanical Engineering