UW Bioengineering Senior Lecturer Alyssa Taylor has received a 2020 UW Distinguished Teaching Award, which recognizes UW faculty for outstanding dedication and innovations in teaching, mentoring and service to others. Dr. Taylor is among 7 recipients of the UW Distinguished Teaching Award this year.
The UW is working on plans to celebrate Dr. Taylor and other winners of UW's 2020 Awards of Excellence, after a planned ceremony was cancelled due to health concerns amid the coronavirus pandemic.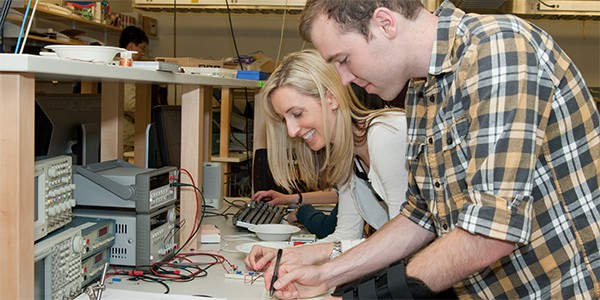 Dr. Taylor's popular courses have introduced hundreds of students to bioengineering, and she has advised scores of seniors as they complete their capstone design projects. Her teaching and education research involves developing, implementing and evaluating core introductory and laboratory courses for bioengineering undergraduates. She also co-facilitates the Bioengineering Capstone program.
Thanks to her enthusiasm and ability to inspire independent and original thinking, in both 2014 and 2016, Dr. Taylor was selected to teach a Collegium Seminar, a competitive opportunity for UW faculty to develop and teach courses that encourage freshmen to engage in academic discovery. In 2017, she received the Award for Excellence in Science Education from the Seattle Association for Women in Science, and she previously received the UW Bioengineering Award for Outstanding Teacher/Mentor.
Dr. Taylor joined UW Bioengineering's faculty in 2010, after earning her Ph.D. in biomedical engineering from the University of Virginia.
Learn more about Dr. Taylor's experience teaching and mentoring BioE students, and read the 2019 Humans of BioE profile about her.