UW Bioengineering has launched its first study abroad program that will begin Early Fall Start 2018 (August 21-September 11). Entitled "Bioengineering Nepal: Technology Development for Global Health," the exploration seminar will introduce students to needs, solutions and challenges that impact health care delivery. The program is open to all UW undergraduate and master's students in any major. No prerequisite courses are required,  although an introduction to global health via GH 101 or 201, or BIOEN 215 is recommended.
Efforts to develop the program were initiated by BioE faculty Karen Thickman, Barry Lutz and Michael Regnier. With the support of a UW Global Innovation Fund grant, the team traveled to Nepal in the fall of 2017 to explore opportunities for learning and research collaboration. "In particular, we will identify opportunities with local clinics to have BioE undergraduates develop design criteria for needs identified by local health care workers," said Dr. Thickman for an article published last spring detailing BioE's efforts to establish formal ties with institutions abroad. 
In the 3-week program, which was developed in conjunction with Kathmandu University, students will explore the needs of medical workers in Nepal. Students  By shadowing clinicians in Dhulikhel Hospital and affiliated medical outreach centers, students will define technology needs for improving health care delivery in three focus areas: cardiovascular health and disease prevention, infectious disease diagnosis and prevention, and accident and trauma care. Alongside engineering students from Kathmandu University, students will identify criteria and constraints of implementing of a potential engineering solution to at least one problem. In addition to examining engineering challenges, students will consider other factors that impact implementation of potential solutions.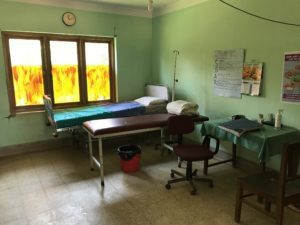 Program learning objectives:
Observe and interact with medical professionals in a variety of different settings with professionalism
Interview stakeholders and use active listening techniques to understand their perspective
Work with team members from different cultural backgrounds to generate a report and solution criteria that reflect all perspectives
Generate and maintain excellent notes on observations and interactions
Define clearly and specifically a global health problem that has the potential to be solved with an engineering solution
Develop criteria and constraints for a potential solution to a global health problem
Present engineering in global health problem statements in written and oral formats to diverse audiences
In addition to their course work, students will have an opportunity to explore and live in Nepal. Through group excursions, students will explore the cultural heritage of this diverse country at the crossroads of the world.
Students will wrap up the program by detailing their work in oral and written reports. They will present their work to members of the medical staff of Dhulikhel Hospital, engineering faculty and students at Kathmandu University, and peers and faculty at UW after returning to Seattle.
To learn more about the program and to apply, visit UW Study Abroad's website.