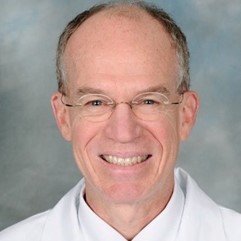 Christopher (Chris) Allan graduated from the MAB program in 2020. He is a research associate professor in the Musculoskeletal Systems Biology Lab, a part of UW Orthopaedics, at Institute for Stem Cell and Regenerative Medicine (ISCRM). He serves as a principal investigator in a Department of Defense-funded clinical trial that assesses the safety and efficacy of the research team's negative-pressure wound therapy glove for hand injuries.
The program has helped us better navigate our course through the gamut of FDA and other regulatory requirements. I also gained a much deeper understanding of what it will take to grow our startup-in-name-only into a real, productive business.
After many years as a hand surgeon and surgery instructor, Chris joined the MAB program to expand his research role and strengthen his engineering background for his lab's planned startup. He mentored several teams in the early years of the MAB program and was inspired by their excitement for the program.
There were many aspects of the program he enjoyed – foundational training in engineering principles, exposure to entrepreneurship and business theory, teambuilding skllls, gaining an understanding of medical device regulatory pathways and developing the confidence to tackle new challenges. He also enjoyed spending time with bright young students.
The MAB program helped Chris be a better partner for his engineering colleagues. Chris added that the program "has helped us better navigate our course through the gamut of FDA and other regulatory requirements. I also gained a much deeper understanding of what it will take to grow our startup-in-name-only into a real, productive business."