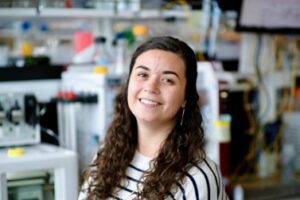 Advisors and professors in the program were hugely helpful in reviewing my materials and better preparing me while searching and applying for jobs. I can confidently say that I wouldn't be where I am today without my experience in this program.
MAB graduate Maddalena Di Piazza ('22) currently works as an innovation engineer at Cepheid, a Sunnyvale, CA-based company specializing in point-of-care molecular diagnostics. Her career trajectory took a unique path through Cepheid's rotational program. It afforded her the opportunity to explore various technical roles and contribute to diverse projects—ranging from hardware prototyping to product development for respiratory disease diagnostics—before deciding on a more permanent placement.
Maddalena's interest in the MAB program emerged from a deep-rooted interest in bridging science and engineering. The program's pragmatic emphasis on hands-on projects, combined with opportunities to complete clinical rotations and a meaningful capstone project, held strong appeal as an entry point to the realities of working in the biotechnology sector.
"My experience in the MAB program taught me to learn, absorb and act on information in an efficient and effective way," says Maddalena. "My job requires me to be creative in solving tough problems, and quickly assess the feasibility of new technologies. Thinking outside of the box, while still keeping the user or patient in mind, has been a great skill to have."
Maddalena also recalls the mentorship she received from the MAB faculty. "Advisors and professors in the program were hugely helpful in reviewing my materials and better preparing me while searching and applying for jobs. I can confidently say that I wouldn't be where I am today without my experience in this program."