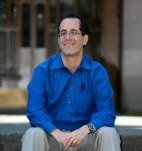 UW Bioengineering faculty member Jay Rubinstein was inducted to the AIMBE College of Fellows Class of 2019 at the AIMBE Annual Event, which was held March 23-25 in Arlington, Va.
Dr. Rubinstein, joint professor of bioengineering and otolaryngology, and Virginia Merrill Bloedel Chair in Clinical Hearing Research, was recognized for "for contributions to the development of practical electrical stimulation in the auditory and vestibular systems of human and animal subjects." Dr. Rubinstein is director of the Virginia Merrill Bloedel Hearing Research Center at UW.
Herbert Sauro, associate professor of bioengineering, was elected to AIMBE this year but has deferred his induction as a fellow to 2020.
AIMBE, or the American Institute for Medical and Biological Engineering, is a non-profit advocacy organization dedicated to improving lives through medical and biological engineering. AIMBE Fellows represent the top two percent of medical and biological engineers in the United States. Drs. Thomas, Daggett, Tian and Yuan join a distinguished group of more than 1,000 other fellows from academia,industry and government who have made significant contributions to bioengineering research, industrial practice, and education. Visit AIMBE's website to learn more.