Mike Averkiou knows a thing or two about bringing worlds together. He's lived half his life on the Mediterranean island of Cyprus and half his life in the U.S., including 11 years in Seattle. His career path has taken him from academia to industry and back again. And as a bioengineer, he applies engineering precision to the biology of disease detection, improved cancer treatment and monitoring and ways to better deliver drugs to targeted cells.
Averkiou, who joins the UW Department of Bioengineering Jan. 5, 2015, as associate professor, brings expertise in ultrasound imaging and therapy technology. He will collaborate with UW's ultrasound-based Washington Molecular Imaging and Therapy Center, or uWAMIT, set up to incubate ultrasound technologies and help transfer innovations into clinics.
His love for problem solving and applying the results to practical clinical tools and procedures guides his work, Averkiou says. "I get intense gratification and excitement from seeing my research results improving people's health, so I put a strong emphasis on translational research and on clinical utility."
At the University of Cyprus, where he has been first assistant and later associate professor of mechanical and manufacturing engineering since 2005, he founded the Biomedical Ultrasound Laboratory, and forged clinical collaborations with the local hospital and oncology center and other European medical schools.
Averkiou looks forward to returning to Seattle and being part of the strong network of clinical collaborators at UW and the large UW Medical Center, as well as being part of a nationally ranked department dedicated to bioengineering. He first joined the UW Applied Physics Laboratory (APL) as a postdoctoral fellow in 1994, working on lithotripsy, bubble dynamics and therapeutic ultrasound in collaboration with Lawrence Crum, research professor in bioengineering. In 1996 he took an adjunct research professor position with APL.
After joining ATL Ultrasound in 1996 in Bothell, Wash., which Philips Medical Systems acquired three years later, he set to work advancing ultrasound technology in earnest, amassing 38 U.S. and international patents on diagnostic and therapeutic applications of ultrasound to date.
Microbubbles drive clinical innovations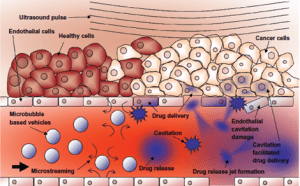 His past advances can be found in numerous clinical applications today, from nonlinear tissue imaging to microbubble contrast agents that improve the ability to see into the body and visualize detail as never before. At the UW, he will expand on his work using ultrasound as a means of drug delivery targeting cancer cells, spotting the earliest stages of disease by imaging the formation of new tumor blood vessels and improving drug delivery. In one area of research, he uses high intensity focused ultrasound to blast cell membranes with microbubbles. The membranes temporarily allow the microbubbles, loaded with drug nanoparticles, to pass through them and trigger a molecular change. "I want to continue developing imaging and therapy ultrasound technology in order to bring image-guided ultrasound-mediated drug delivery into clinical trials," Averkiou says.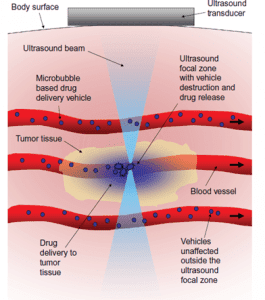 His philosophy is to push forward on all fronts – so he performs research at various stages in-vitro, pre-clinical and clinical studies. A particular capability that he brings with him is studying machine perfusion of living human-sized livers. Using pig livers collected from the local slaughterhouse, he can keep them alive for 6-10 hours and image how blood—and drugs—flow into the tissue. "This is an excellent test bed for measuring perfusion and drug delivery," he says. He hopes to advance this method to using diseased human livers from transplants or diseased sections removed during surgery. "The long-term objective is to take livers from humans and condition them to address disease issues, and then be able to place them back into the person."
A love for engineering and mountain biking
From an early age, he knew he wanted to study engineering. In high school, he drew a horizontal line on a map from Cyprus around the world, looking for quality engineering schools in the U.S. that would share a similar climate. The winner: the University of Texas at Austin, where he received a Fulbright/AMIDEAST scholarship after his freshman year, and earned BS, MS and PhD degrees in mechanical engineering.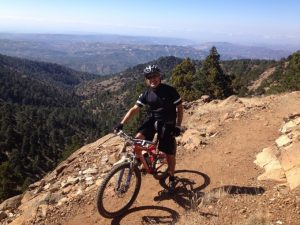 Averkiou's wife is a UW alumna (MS, Nutritional Sciences), and both their sons happen to be pursuing engineering degrees at UW. Once back in Seattle, Averkiou is eager to tackle nearby mountains again, on snowboard and especially on mountain bike.
First skidding onto the trails in 1987, he says, "I really love and enjoy mountain biking. As a student, my first mountain bike was slightly more expensive than the car I had at the time, and I had to work hard to save enough money to buy it." While at Philips, he organized weekly mountain biking outings that still continue today. When he returned to Cyprus in 2005, he started a free weekend mountain biking "school" for 6-12-year-olds, once again bringing his two worlds together. As for himself, he says, "I like single tracks with a high degree of difficulty and some danger. I enjoy the adrenaline rush."
Article by Lia Unrau