UW bioengineering M.S. student Rachel Shi has received a Fulbright fellowship to study the use of biopolymer coatings for biomedical devices at the Max Planck Institute for Polymer Research (MPIP) in Mainz, Germany.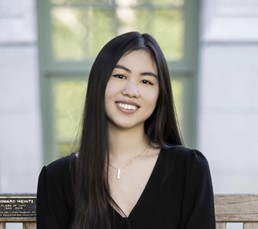 Rachel currently works in the lab of Buddy Ratner, joint professor of bioengineering and chemical engineering. The lab is part of a multidisciplinary partnership called the Center for Dialysis Innovation (CDI), which is co-directed by Ratner and Dr. Jonathan Himmelfarb. The CDI's mission is to drive innovation in the field of dialysis research in order to improve the lives of patients experiencing kidney failure.
Rachel's role in the lab involves developing flat film and hollow fiber polymer membranes for dialysate nanofiltration in portable dialysis devices. One of the current restrictions in the development of a viable portable dialysis system is the amount of fluid needed to properly filter the blood. Since such a high volume of fluid is required, patients undergoing dialysis must go to dialysis clinics multiple times a week for hours at a time to receive treatment. Rachel's research focuses on developing biomaterials that enable dialysate recycling, reducing the amount of fluid needed and enabling the entire portable dialysis system to be lighter and more compact.
Working at MPIP will give Rachel the opportunity to further her research in polymeric materials and biocompatibility while also allowing her to investigate methods for making biomaterials research more environmentally sustainable.
Medical waste is challenging to avoid because everything has a protocol. Those protocols are meant to keep people safe. But in the future, providing excellent patient care and keeping the staff safe shouldn't have to come at the expense of the planet. Rachel Shi
Sustainable polymer synthesis
Rachel's proposed research plan at MPIP involves synthesizing biocompatible polymers using cyclic voltammetry. The goal is to develop polymers for use as coatings for biomedical devices that minimize immune response and optimize device performance.
Another component of Rachel's research is environmental sustainability. While working as a medical scribe at Harborview Medical Center, she developed an interest in how hospitals use and dispose of excess materials.
"Medical waste is challenging to avoid, because everything has a protocol," Rachel says. "Those protocols are meant to keep people safe. But in the future, providing excellent patient care and keeping the staff safe shouldn't have to come at the expense of the planet."
A one-of-a-kind cultural exchange
The Fulbright program offers students a unique opportunity to engage in meaningful study in another country, helping recipients expand their cultural awareness and develop a more global perspective. The research fellowship that Rachel pursued allowed her to choose where she wanted to go and who she wanted to work with.
Speaking on her decision to study in Germany, Rachel says that "Germany is a leading manufacturer of commercial polymers, and they're spearheading a lot of sustainability objectives." She also hopes that traveling abroad will give her greater insight into the global biomedical innovation landscape while enhancing her cross-cultural awareness.
Bioengineers Without Borders and Endozene
In addition to her work with the Ratner lab, Rachel has been a core member of Bioengineers Without Borders (BWB), a student organization focused on developing low-cost, sustainable medical technologies.
Rachel has held numerous leadership positions within the organization and has helped plan events and outreach initiatives to promote interdisciplinary collaboration and greater interest in the field of bioengineering.
For the 2022-23 academic year, Rachel and her BWB team needed to come up with a new research focus area. After taking time to brainstorm, they decided to investigate endometriosis diagnostics. This was a personal topic for Rachel, who has friends who have been diagnosed with endometriosis. "Currently, getting a diagnosis is a huge headache," she says. "The diagnostic tests available for endometriosis are so invasive that the condition is often treated empirically, with most cases involving a lot of trial and error."
As they began the project, Rachel's team reached out to members of the University of Rochester's 2020 iGEM team, who had been investigating a similar line of inquiry. They later discovered that another UW team—composed of Master of Applied Bioengineering (MAB) students—was also researching endometriosis diagnostics. The two teams merged, becoming Endozene.
Rachel has served as the leader of team Endozene, overseeing many different aspects of the project while managing outreach and stakeholder engagement. She is thrilled that the project has been so well received by judges and investors at entrepreneurship competitions.
While abroad in Germany, Rachel hopes to stay on in an advisory role for the project. "I see a lot of potential in what we are doing," she says. "We have a lot of collaborators and stakeholders from a lot of different fields who want to support the project. I think Endozene can really go somewhere."
Huskies for Neurodiversity
Rachel was also involved with the founding of Huskies for Neurodiversity, a student group focused on expanding awareness and acceptance of different forms of neurodiversity on campus and beyond. Rachel and her team have organized panels and generated numerous articles on neurodiversity, and they are now looking to disseminate their research to the public in order to provide quality educational resources. The goal is to make campus a safer, more inclusive space for neurodiverse individuals while also expanding the conversation surrounding autism, dyslexia, ADHD, Tourette syndrome and other neurodiverse identities. Huskies for Neurodiversity won the 2021-22 Husky Seed Fund Award, which is designed to help support inclusive, impactful and inventive student-led initiatives.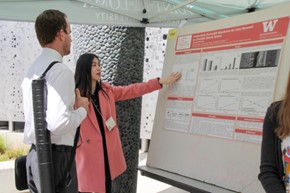 As an Early Entrance Program (EEP) alumni, Rachel began her UW experience at age 14 where she received her B.S in Bioengineering. "I met fantastic instructors through the program who introduced me to important skills surrounding research methodologies and critical thinking," she says. From a young age, Rachel knew that she was interested in research. One of the major draws to the EEP was the access it granted her to university-level resources.
As an engineer, I am constantly consulting with different physicians, and they are able to provide a lot of guidance regarding what engineering innovations could mean for patients down the road. Rachel Shi
Now, as she looks ahead to her Fulbright program and beyond, Rachel is in the process of applying to medical school. "As a physician, I hope to continue a lot of the work I do now in technology development," says Rachel. "As an engineer, I am constantly consulting with different physicians, and they are able to provide a lot of guidance regarding what engineering innovations could mean for patients down the road."
Outside of her academic life, Rachel enjoys rollerblading with friends, crocheting small stuffed animals called amigurumis and playing the clarinet. She enjoys picking up new skills and hobbies, with the goal of trying something different every year.
About the Fulbright Program
Since its inception in 1946, the Fulbright Program has been sponsored by the United States Government with the aim of advancing cross-cultural relationships and competencies. Each year, participants are given the opportunity to travel abroad in order to exchange ideas and engage in research aimed towards developing solutions for global concerns. The program operates in over 125 countries throughout the world.