In this issue:   Faculty Research & Awards | Featured Publications | Trainee Highlights | Upcoming Events
Welcome to UW Bioengineering's Innovation & Impact!
Thank you for reading. I also thank those of you who joined us for our 50/20 Anniversary event May 21-22 to celebrate our history of impact on health care, and to reflect on what lies ahead in our boundless future.
Additionally, congratulations to the many award winners featured in this issue, and to our Class of 2018!
With warm regards,
Cecilia Giachelli, Ph.D.
W. Hunter and Dorothy Simpson Endowed Chair, Professor
Department of Bioengineering
Faculty Research & Awards
David Castner, professor of bioengineering and chemical engineering, is recognized for leading advances in rigorous and state-of-the-art surface analysis methods applied to organic and biological samples.
Associate Professor Deok-Ho Kim and his international collaborators will study the dynamics of collective cell migration on curved surfaces, and aim to shed light on the mechanisms underlying organism development and tissue repair.
This July, Professor Gerald Pollack will share the podium with Nobel Laureates Luc Montagnier (Medicine) and Brian Josephson (Physics) in a special seminar on "New Horizons in Water Science" at the Royal Society of Medicine in London.
Suzie Pun, the Robert F. Rushmer Professor of Bioengineering, is honored for her dedication to serving as a graduate student advocate, and for recruiting, supporting and engaging graduate students in the Husky Experience.
NanoSurface Biomedical, co-founded by UW BioE alumnus Elliot Fisher ('16) and Deok Ho Kim, associate professor of bioengineering, and spun out of BioE in 2015, was selected from 40 companies to win $125,000 of investment funding.
Professor Xiaohu Gao and Eva Corey of UW Medicine Urology have developed a way to target prostate tumors that overcomes past hurdles. Their work appeared April 2 in Nature Biomedical Engineering.
Professor Paul Yager's lab has devised a way to use smartphone cameras to diagnose the flu and sexually transmitted infections without costly equipment, which was presented May 1 in Analytical Chemistry.
Featured Publications
Wanyi Tai et al
(Xiaohu Gao's lab / UW Department of Medicine — Urology)
Nature Biomedical Engineering
Nirveek Bhattacharjee et al
(Albert Folch's lab)
Advanced Materials
Kamal Shah et al.
(Paul Yager's lab)
Analytical Chemistry
Michael Taylor et al.
(Lara Gamble's lab  / Colorado State University)
Biointerphases
Surya Kotha et al
(Ying Zheng's lab / UW Departments of Pharmacology and Medicine / Fred Hutchinson Cancer Research Center)
Stem Cell Research & Therapy
Raluca Marcu et al
(Charles Murry, Kelly Stevens and Ying Zheng's labs / UW Departments of Computer Science and Engineering, Environmental and Occupational Health Sciences and Medicine)
iScience
Seong G. Hwang et al
(Gerald Pollack's lab / Hankyong National University / Center of Excellence in Wireless and Information Technology / The State University of New York)
PLoS One
Sarah Weske et al
(Marta Scatena's lab / University of Duisburg-Essen / University of Düsseldorf / University Medical Center Hamburg-Eppendorf / German Centre for Cardiovascular Research / University Medicine Greifswald / University Hospital Jena)
Nature Medicine
Trainee Highlights
The new postdoctoral training program promotes the development of interdisciplinary innovators in the natural sciences, engineering, mathematics and computing, who can drive world-changing advances in science and society.
WRF's new award supports highly creative and dedicated postdoctoral scientists within Washington state who conduct groundbreaking work that addresses unmet public needs.
Recent B.S. grad Caleb Perez will travel to EPFL to advance development of dendritic cell vaccines, and hopes to change the future of cancer treatment by opening doors to new therapies that improve patients' quality of life and survival rates.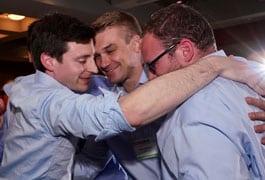 BioE's winners of the UW entrepreneurship competition included the $25,000 Herbert B. Jones Foundation grand prize awardee, A-Alpha Bio, which aims to bring safer drugs to market more quickly and affordably.
The Husky 100 connect to life inside and outside the classroom, and apply what they learn to make a difference on campus, in their communities and for the future.
In the Yager lab, M.S. student Dylan Guelig works to increase access to testing for flu and ebola with low-cost, ultrasensitive devices that can be used at the point of care, anywhere in the world.
After wrapping up the second year of the Humans of UW Bioengineering blog, recent B.S. grads Vanessa Nguyen and Samantha Sun reflect on how they found inspiration in sharing their fellow students' stories
Ph.D. student Molly Mollica has teamed up with students and faculty across UW to adapt toys for children with disabilities, and to promote a community focused on inclusive design.
Upcoming Events
August 6-8. A 2.5 day intensive introduction to biomaterials, medical devices and biocompatibility presented by experts.
August 20-21. IDEAS brings together changemakers from academia, medicine, industry and government to discuss strategies for improving outcomes and reducing costs for end stage kidney patients on dialysis.