Congratulations to faculty Christopher Neils and Roberta Wong on their promotions
UW BioE welcomes two new core faculty members.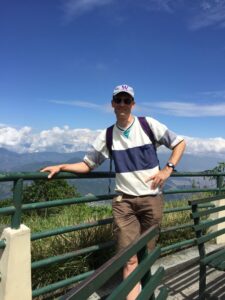 Christopher Neils
Christopher (Chris) Neils started his University of Washington bioengineering career in 2001 as a post-doctoral fellow and teaching assistant for Professor Albert Folch. He was hired as teaching faculty in 2009, and as of September 2022 became the department's first full teaching professor. Neils has taught all of the Bioengineering undergraduate students since the major began in 2001, and the class of 2023 will include his 1000th student. Neils has also chaired the College of Engineering Council on Educational Policy and currently chairs the Bioengineering Curriculum Committee.
After receiving his undergraduate degree in aeronautical engineering from MIT, Neils served as a fluid systems engineer with the Navy's nuclear design division, then earned his Ph.D. in biomedical engineering from the University of Texas at Austin. His diverse engineering background has been helpful for his students who also study a broad range of science and engineering topics. His specialties in the bioengineering curriculum are electrical and mechanical systems.
For the past decade, Neils has co-led the BioE Capstone design program, working primarily with students who choose the team design track. Each team has two to five students who work on a project that addresses an unresolved medical or health-related problem. The team is often mentored by a clinician or local company. Neils has also co-led the past two bioengineering study abroad trips to Nepal. Participating students observe healthcare delivery at a community hospital to identify clinical needs that can be met by innovative technologies. Two of this year's Capstone teams will undertake projects based on issues identified in Nepal.
When asked how his students would describe him, Neils said, "patient, enthusiastic and quirky." Why quirky? He shared an example of his unique teaching methods that speaks to that trait. On April 6, 2022, when 19-year-old Grammy award-winning singer/songwriter Olivia Rodrigo was performing in Seattle, Neils incorporated all of her song titles into his signal processing lecture. His favorite accomplishment, however, was running an in-person, fully masked and distanced lab course in autumn 2020 with outstanding TA support.
Neils received the UW BioE Outstanding Teacher Award in 2008 and 2011 and is consistently nominated for a variety of college and UW teaching awards. He is most honored by a compliment that came from a student who said, "I hear that you're a good reason to major in Bioengineering."
When he's not teaching, Neils enjoys nurturing things, whether that's plants, children or the multitude of family pets.
Roberta Wong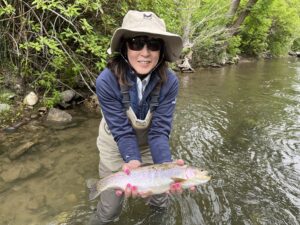 Roberta (Robbie) Wong joined the University of Washington in 2010 as affiliate assistant professor in the Bioengineering Pharmaceutical Bioengineering (PharBE) program. In September she was promoted to associate teaching professor as part of the core faculty for Bioengineering. Wong studied Biology at University of California, Davis before receiving early admission to University of California School of Pharmacy in San Francisco where she received her Pharm.D. and completed a clinical residency.
Prior to joining the UW, Wong worked with people who had cancer or were HIV-infected which led to her focus on drug research for those diseases. She established the inaugural HIV clinical and research pharmacy practice at Ward 86 outpatient clinic at San Francisco General Hospital. Her work included conducting clinical research and assessing and evaluating patient responses to medications. Some of the clinical drug research Robbie was involved in included AZT, the first antiviral treatment for HIV infection; Saquinavir, the first protease inhibitor approved for HIV infection; and alpha interferon 2a at Ward 86, and Kineret for treatment of rheumatoid arthritis; and Neupogen for HIV-infected patients at Amgen.
At startup Abraxis Oncology, Wong led the market launch for Abraxane treating persons with metastatic breast cancer, and she built the corporate marketing presence prior to the company's sale to Celgene. In addition, Wong worked on toxicology trials at UCLA spinoff Agensys on monoclonal antibodies for cancer prior to the company's purchase by Astellas.
Wong was awarded the American Society of Health-System Pharmacists (ASHP) Practitioner Fellow for her pioneering work in HIV research and treatment, and the California Society of Health-System Pharmacists (CSHP) Practitioner Fellow for her ground-breaking work in HIV education and research. She also received the US Assistant Secretary of Health Award for outstanding accomplishment in educating pharmacists.
In her new role, Wong will be teaching six courses, including one that focuses on career development for BioE Ph.D. students. She is also advising junior faculty.
Wong enjoys teaching pharmaceutical principles as well as mentoring her students, which she finds especially rewarding. Since the PharBE program is virtual, Wong is committed to making sure the classes are interactive and responsive to the student's needs. Her hope for the program is that PharBE graduates can contribute more to their current and future roles and are equipped to transition to a new career in the biopharmaceutical industry.
When asked to describe PharBE students in three words, Wong said, "eager, curious and motivated." The three words she believes her students would use to describe her are, "encouraging, challenging and knowledgeable."
Outside of work, Wong is a self-professed "exercise freak" and enjoys working out at the gym, riding her bike, hiking and weightlifting.  She recently took up crabbing, enjoying the Pacific Northwest's focus on fresh seafood.