The UW Department of Bioengineering is excited to announce that faculty members Mike Averkiou and Azadeh Yazdan-Shahmorad have been promoted.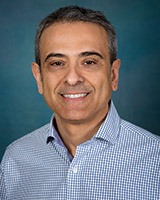 Mike Averkiou first came to UW as a postdoc in 1994 after completing his undergraduate and graduate degrees in mechanical engineering at the University of Texas in Austin. He joined the UW Applied Physics Laboratory, where he worked in collaboration with Research Professor Emeritus Lawrence Crum on lithotripsy, microbubble dynamics and therapeutic ultrasound applications. After completing his postdoc, he left academia and spent the next 10 years as a research scientist and engineer with the ultrasound division of Philips Medical Systems. During that time, he kept in contact with UW and even helped fund department projects.
Averkiou returned to academia in 2005 as an assistant professor at the University of Cyprus. In 2015, he joined UW BioE as an associate professor, with a research emphasis on diagnostic and therapeutic ultrasound as well as ultrasound-mediated drug delivery. As of September 2023, he has been promoted to professor of bioengineering. He also teaches the main ultrasound elective courses in bioengineering. He has worked alongside the UW Radiology department in the past, training medical professionals on how to use ultrasound contrast agents to improve imaging and diagnostics.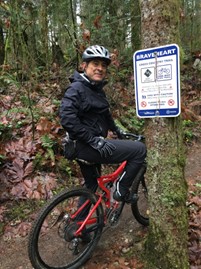 Averkiou's students describe him as "energetic, enthusiastic and caring," and he strives to help his students network and form industry connections. He also oversees a team of undergraduate, graduate and postdoctoral researchers in the Averkiou lab, which was recently awarded $3 million to treat liver cancer through ultrasound and microbubbles. In addition to serving as the Principal Investigator for the Averkiou lab, he is also the co-director of the ultrasound-based Washington Molecular Imaging and Therapy Center (uWAMIT), which focuses on the discovery, development, translation and commercialization of molecular ultrasound technologies.
In his free time, Averkiou is an avid mountain biker, and he enjoys exploring the different trails around the pacific northwest.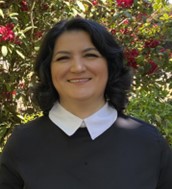 Azadeh Yazdan-Shahmorad first joined UW in 2017 as the Washington Research Foundation Innovation Assistant Professor of Neuroengineering in the Departments of Bioengineering and Electrical & Computer Engineering. As of September 2023, she has been promoted to associate professor with tenure. She completed her bachelor's and master's degrees in biomedical engineering at the Tehran Polytechnic University and University of Tehran, respectively, before earning her Ph.D. from the University of Michigan in Ann Arbor. She also completed post-doctoral training at the University of California in San Francisco.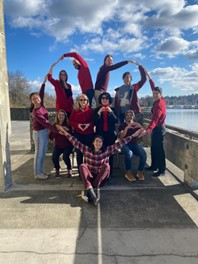 As a professor, Yazdan values growth and kindness, and her students describe her as resilient and innovative. She enjoys connecting with her students, and she is particularly passionate about helping scientists from underrepresented backgrounds navigate the challenges of both academia and industry.
Improv classes are one of the latest steps Yazdan has taken to polish her skills as a faculty researcher and educator, and she hopes to showcase what she has learned while passing on key lessons to her students. She also served as a faculty liaison for community building efforts across the department for the past two years, including coffee chats, cultural and training events, and more.