Joint Professor of Pathology, Cardiology, and Bioengineering
murry@u.washington.edu
Phone: (206)616-8685
South Lake Union campus:
Office: 850 Republican St., Brotman Building, Room 453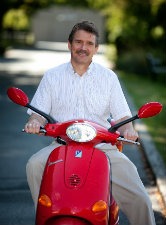 Charles E. Murry
Since 1996, the Murry lab has worked to understand the mechanisms that underlie cardiovascular disease and to develop new treatments. We have a longstanding interest in the biology of myocardial infarction (heart attacks), and in particular, how the heart heals after infarction. The lab has a major focus in stem cell biology and tissue engineering, where we seek to understand the molecular basis for cardiovascular differentiation, and to harness the potential of stem cells to repair the heart.  We are one of the leading groups in the use of human pluripotent stem cells for heart regeneration.  Our current work is focused on non-human primates, and we are moving toward therapeutic trials in human patients.
Recently, our group has begun to use stem cell approaches to study genetically based cardiomyopathies. We are deriving induced pluripotent stem cells (iPSCs) from patients with cardiomyopathy, and using cell biology and tissue engineering for "disease in a dish" studies.  Our current foci are on disorders involving mutations in myosin (MYH7) and myosin binding protein-C (MYBPC).
Myocardial infarction
Stem cells
Tissue repair and regeneration
Tissue engineering
Angiogenesis
Overview
Myocardial infarctions (heart attacks) are the number one cause of death in the industrialized world. Infarcts occur when a coronary artery becomes obstructed, resulting in the rapid death of myocardium from ischemia (deficiency of blood flow). The heart has no significant intrinsic regenerative ability. As a result, infarcts heal by scar formation, and many patients suffer from heart failure after an infarct. Our group is interested in the biology of myocardial infarction, both in defining the molecular mechanisms that underlie the heart's normal wound healing processes and in developing molecular and cell-based approaches to improve infarct repair. We are a multidisciplinary group, doing basic work in molecular biology and regulation of gene expression, cell biology, tissue engineering, mouse models of disease, and analyses of human tissues. The following serves to highlight some of the work underway in the lab.
Stem Cell Studies
Our lab is working with both adult and pluripotent (embryonic and iPSC) stem cells, with an aim to develop cellular approaches to regenerate the heart. Our work in adult stem cells is focused on creating transgenic/knock-in mice to track progenitor cells in the heart. We will use genetic pulse-chase techniques to mark candidate progenitor populations and then follow their appearance into other compartments of the heart such as muscle cells or blood vessels. We are working with mesenchymal stem cells to enhance survival of transplanted cardiomyocytes via paracrine signaling pathways. Pluripotent stem cell studies are focused on molecular pathways involved in cardiovascular differentiation, including the use of high throughput sequencing to understand chromatin remodeling and transcription factor binding. We recently identified key roles for signaling through Wnt and VEGF pathways in determining cardiac, smooth muscle and endothelial fate. We are also using these early cells to repair the infarcted heart via cell transplantation and have shown that stem cell-derived human myocardium prevents development of heart failure after experimental infarction. Recently we have succeeded in partially regenerating the hearts of non-human primates, and we hope to translate these studies to first-in-human trials of heart repair in several years.
Tissue Engineering
Tissue engineering is a new discipline that combines the worlds of cell biology, materials science and quantitative approaches to mathematical modeling and analyses typical of engineering. Our goals are threefold: 1) to create a "patch" of contractile tissue ex vivo and implant this onto an infarcted heart for cardiac repair;  2) to understand the rules of tissue assembly, growth and development to make myocardium that is useful for drug screening or disease modeling; and 3) to use engineered heart tissues to model genetically based human heart muscle diseases.  Current approaches involve seeding cells onto synthetic, biodegradable scaffolds and utilizing a "cells in gels" approach, where cells are seeded into hydrophilic gels containing microencapsulated growth factors and cytokines for timed release.
Human Disease Modeling
We are using human induced pluripotent stem cells (hiPSCs) obtained from patients with childhood- and adult-onset cardiomyopathies to study these genetically based diseases in vitro. We have developed single-cell and engineered heart tissue assays to assess contractile function and electrical function. A major goal is to promote the in vitro maturation of human cardiomyocytes such that they better reflect the physiology of the postnatal heart.
Fellowship, Experimental and Diagnostic Cardiovascular Pathology, 1996
Residency, Anatomic Pathology, University of Washington, 1992
MD, Duke University, 1989
PhD (pathology), Duke University, 1988
BS, University of North Dakota, 1982
Postdoctoral Fellowship (Vascular Molecular biology), University of Washington, 1991-1996
Faculty:
2014    UW Presidential Entrepreneurial Faculty Fellow ($10,000 prize)
2014    University of Missouri James O. Davis Lecture
2013    Elected as American Association for the Advancement of Science Fellow
2013         Keynote Lecture, Weinstein Cardiovascular Development Meeting, University of Arizona
2013    Fyler Lecture, Children's Hospital of Boston
2012    Alumni Lecture, University of North Dakota
2012    Elected to Washington State Academy of Sciences
2011    Oregon Health Sciences University, James Metcalfe Lecture
2011    Keith Reimer Distinguished Lecture, International Society for Heart Research
2010    Association of American Physicians
2008    Distinguished Basic Science Teacher Award, UW School of Medicine ($5000 prize)
2007    Wall of Fame, Bismarck High School
2006    Basic Science Professor of the Quarter, UW School of Medicine
2005    Basic Science Professor of the Quarter, UW School of Medicine
2003    Basic Science Professor of the Quarter, UW School of Medicine
2003    Alumnus of the Year, Bismarck State College
2000    Presidential Early Career Award in Science and Engineering
1999    American Heart Association Council on Basic Cardiovascular Sciences Research Prize (Received $30,000 for support of a research fellow)
Fellowship:
1996    Burroughs Wellcome Career Award in the Biomedical Sciences
1994    American Society for Investigative Pathology Merit Award
Residency:
1993    Arthur Purdy Stout Fellowship (Studied cardiovascular pathology with Dr.         Margaret Billingham, Stanford University)
Graduate School:
1987    Runner-Up, Upjohn Award (International Society for Heart Research Young Investigator Award)
1986    Winner, Sheard-Sanford Award (American Society of Clinical Pathologists award for outstanding student research)
Medical School:
1984-1985        Eugene Stead Fellow
1984-1985        Eugene Stead Fellow
1982-1983        Medical Alumni Scholarship
Undergraduate
1982        Phi Beta Kappa
1982        Summa Cum Laude
1981        Ben Gustafson Scholarship for Outstanding Achievement in Chemistry
Stevens KR, Pabon L, Murry CE. Scaffold-free human cardiac tissue patch created from   embryonic stem cells. Tissue Eng Part A. 2009 Jun;15(6):1211-22 [Epub Dec 8, 2008].
Moreno-Gonzalez A, Korte FS, Dai J, Chen K, Ho B, Reinecke H, Murry CE*, Regnier M*. Cell therapy enhances function of remote non-infarcted myocardium. J Mol Cell Cardiol. 2009 Nov;47(5):603-13. Epub 2009 Aug 14. *equal contributions
Stevens KR, Kreutziger K, Dupras S, Korte FS, Regnier MA, Muskheli V, Nourse M, Bendixen K, Reinecke H, Murry CE. Physiological Function and Transplantation of Scaffold-free and Vascularized Human Cardiac Muscle Tissue. Proc Natl Acad Sci USA 2009 Sep 29;106(39):16568-73. Epub 2009 Sep 17.
Nourse MB, Scatena M, Mortisen DJ, Hauch KD, Ratner BD, Pabon L, Murry CE. VEGF induces differentiation of endothelium from human embryonic stem cells: implications for tissue engineering. Arterioscler Thromb Vasc Biol. 2010 Jan;30(1):80-9. Epub 2009 Oct 29.
Madden LR, Mortisen DJ, Sussman EM, Dupra SK, Fugate JA, Cuy JL, Hauch KD, Laflamme MA, Murry CE, Ratner BD. Proangiogenic scaffolds as functional templates for cardiac tissue engineering. Proc Natl Acad Sci U S A. 2010 Aug;107(34):15211-16. Epub 2010 Aug 9.
Naumova AV, Reinecke H, Yarnykh V, Deem J, Yuan C, Murry CE. Ferritin overexpression for noninvasive magnetic resonance imaging-based tracking of stem cells transplanted into the heart. Mol Imaging. 2010 Aug;9(4):201-10.
Fernandes S, Naumova AV, Zhu WZ, Laflamme MA, Gold J, Murry CE. Human embryonic stem cell-derived cardiomyocytes engraft but do not alter cardiac remodeling after chronic infarction in rats. J Mol Cell Cardiol. 2010 Dec;49(6):941-9.
Garbern JC, Minami E, Stayton PS, Murry CE. Delivery of basic fibroblast growth factor with a pH-responsive, injectable hydrogel to improve angiogenesis in infarcted myocardium. Biomaterials. 2011 Mar;32(9):2407-16.
Laurent LC, Ulitsky I, Slavin I, Tran H, Schork A, Morey R, Lynch C, Harness JV, Lee S, Barrero MJ, Ku S, Martynova M, Semechkin R, Galat V, Gottesfeld J, Izpisua Belmonte JC, Murry CE, Keirstead HS, Park HS, Schmidt U, Laslett AL, Muller FJ, Nievergelt CM, Shamir R, Loring JF. Dynamic changes in the copy number of pluripotency and cell proliferation genes in human ESCs and iPSCs during reprogramming and time in culture. Cell Stem Cell. 2011 Jan 7;8(1):106-18.
Kreutziger KL, Muskheli V, Johnson P, Braun K, Wight TN, Murry CE. Developing Vasculature and Stroma in Engineered Human Myocardium. Tissue Eng Part A. 2011 May;17(9-10):1219-28. Epub 2011 Feb 2.
Kreutziger KL, Murry CE. Engineered Human Cardiac Tissue. Pediatr Cardiol. 2011 Mar;32(3):334-41. Epub 2011 Feb 4.
Laflamme MA, Murry CE. Heart Regeneration. Nature. 2011 May; 473:326-335.
Tulloch NL, Muskheli V, Razumova MV, Korte FS, Regnier M, Hauch KD, Pabon L, Reinecke H, Murry CE. Growth of engineered human myocardium with mechanical loading and vascular co-culture. Circ Res. 2011 Jun 24;109(1):47-59. Epub 2011 May 19.
Korte FS, Dai J, Buckley K, Feest ER, Adamek N, Geeves MA, Murry CE, Regnier M Upregulation of cardiomyocyte ribonucleotide reductase increases intracellular 2 deoxy-ATP, contractility, and relaxation. J Mol Cell Cardiol. 2011 Dec;51(6):894-901.Epub 2011 Sep 3.
Naumova AV, Yarnykh VL, Balu N, Reinecke H, Murry CE, Yuan C. Quantification of MRI Signal of Transgenic Grafts Overexpressing Ferritin in Murine Mycardioal Infarcts. NMR Biomed. 2012 Feb 24. Epub ahead of print.
Shiba Y*, Fernandes S*, Zhu WZ, Filice D, Muskheli V, Kim J, Palpant NJ, Gantz J, Moyes KW, Reinecke H, Van Biber B, Dardas T, Mignone JL, Izawa A, Hanna R, Viswanathan M, Gold JD, Kotlikoff MI, Sarvazyan N, Kay MW, Murry CE**, Laflamme MA**. Human ES-cell-derived cardiomyocytes electrically couple and suppress arrhythmias in injured hearts. Nature. 2012 Sep 13;489(7415):322-5. *Co-first authors; **Co-corresponding authors.   This paper was rated as one of 2012's top 8 promising medical advances by the National Institutes of Health.
Paige SL, Thomas S, Stoick-Cooper CL, Wang H, Maves L, Sandstrom R, Pabon L, Reinecke H, Pratt G, Keller G, Moon RT, Stamatoyannopoulos J, Murry CE. A temporal chromatin signature in human embryonic stem cells identifies regulators of cardiac development. Cell. 2012 Sep 28;151(1):221-32. Epub 2012 Sep 11.
Chong JJ, Reinecke H, Iwata M, Torok-Storb B, Stempien-Otero A, Murry CE. Progenitor Cells   Identified by PDGFR-alpha Expression in the Developing and Diseased Human Heart. Stem Cells Dev. 2013 Feb 7. [Epub ahead of print]
Ruan JL, Tulloch NL, Muskheli V, Genova EE, Mariner PD, Anseth KS, Murry CE. An Improved Cryosection Method for Polyethylene Glycol Hydrogels Used in Tissue Engineering. Tissue Eng Part C Methods. 2013 Mar 1. [Epub ahead of print]
Nowakowski SG, Kolwicz SC, Korte FS, Luo Z, Robinson-Hamm JN, Page JL, Brozovich F, Weiss RS, Tian R, Murry CE, Regnier M. Transgenic overexpression of ribonucleotide reductase improves cardiac performance. Proc Natl Acad Sci USA. 2013 Apr 9;110(15):6187-92. Epub 2013 Mar 25.
Weyers JJ, Schwartz SM, Minami E, Carlson DD, Dupras SK, Weitz K, Simons M, Cox TC, Murry CE, Mahoney WM. Effects of Cell Grafting on Coronary Remodeling After Myocardial Infarction. J Am Heart Assoc. 2013 May 30;2(3):e000202.
Palpant NJ, Pabon L, Rabinowitz JS, Hadland BK, Stoick-Cooper CL, Paige SL, Bernstein ID, Moon RT, Murry CE. Transmembrane protein 88: a Wnt regulatory protein that specifies cardiomyocyte development. Development. 2013 Sep;140(18):3799-808. Epub 2013 Aug 7.
Thomson KS, Dupras SK, Murry CE, Scatena M, Regnier M. Proangiogenic microtemplated fibrin scaffolds containing aprotinin promote improved wound healing responses. Angiogenesis. 2014 Jan;17(1):195-205. Epub 2013 Oct 15.
Guan X, Mack DL, Moreno CM, Strande JL, Mathieu J, Shi Y, Markert CD, Wang Z, Liu G, Lawlor MW, Moorefield EC, Jones TN, Fugate JA, Furth ME, Murry CE, Ruohola-Baker H, Zhang Y, Santana LF, Childers MK. Dystrophin-deficient cardiomyocytes derived from human urine: new biologic reagents for drug discovery.Stem Cell Res. 2014 Mar;12(2):467-80. Epub 2013 Dec 23.
Yang X, Pabon L, Murry CE. Engineering adolescence: maturation of human pluripotent stem cell-derived cardiomyocytes. Circ Res. 2014 Jan 31;114(3):511-23. Review.
Rodriguez M, Graham BT, Pabon LM, Han SJ, Murry CE, Sniadecki N. Measuring the Contractile Forces of Human Induced Pluripotent Stem Cell-Derived Cardiomyocytes with Arrays of Microposts. J Biomech Eng. 2014 Mar 1. [Epub ahead of print]
Jiao A, Trosper NE, Yang HS, Kim J, Tsui JH, Frankel SD, Murry CE, Kim DH. Thermoresponsive Nanofabricated Substratum for the Engineering of Three-Dimensional Tissues with Layer-by-Layer Architectural Control.ACS Nano. 2014 Apr 24. [Epub ahead of print]
Naumova AV, Balu N, Yarnykh VL, Reinecke H, Murry CE, Yuan C. Magnetic Resonance Imaging Tracking of Graft Survival in the Infarcted Heart: Iron Oxide Particles Versus Ferritin Overexpression Approach.J Cardiovasc Pharmacol Ther. 2014 Mar 30. [Epub ahead of print]
Feest ER, Steven Korte F, Tu AY, Dai J, Razumova MV, Murry CE, Regnier M. Thin filament incorporation of an engineered cardiac troponin C variant (L48Q) enhances contractility in intact cardiomyocytes from healthy and infarcted hearts. J Mol Cell Cardiol. 2014 Mar 29;72C:219-227. [Epub ahead of print]
Yang X, Rodriguez M, Pabon L, Fischer KA, Reinecke H, Regnier M, Sniadecki NJ, Ruohola-Baker H, Murry CE. Tri-iodo-l-thyronine promotes the maturation of human cardiomyocytes-derived from induced pluripotent stem cells. J Mol Cell Cardiol. 2014 Apr 13;72C:296-304. [Epub ahead of print]
Chong JJ, Yang X, Don CW, Minami E, Liu YW, Weyers JJ, Mahoney WM, Van Biber B, Palpant NJ, Gantz JA, Fugate JA, Muskheli V, Gough GM, Vogel KW, Astley CA, Hotchkiss CE, Baldessari A, Pabon L, Reinecke H, Gill EA, Nelson V, Kiem HP, Laflamme MA, Murry CE. Human embryonic-stem-cell-derived cardiomyocytes regenerate non-human primate hearts. Nature. 2014 Apr 30.. [Epub ahead of print]
Lundy SD, Murphy SA, Dupras SK, Dai J, Murry CE, Laflamme MA, Regnier M. Cell-based delivery of dATP via gap junctions enhances cardiac contractility. J Mol Cell Cardiol. 2014 Apr 26.. [Epub ahead of print]
Wang G, McCain ML, Yang L, He A, Pasqualini FS, Agarwal A, Yuan H, Jiang D, Zhang D, Zangi L, Geva J, Roberts AE, Ma Q, Ding J, Chen J, Wang DZ, Li K, Wang J, Wanders RJ, Kulik W, Vaz FM, Laflamme MA, Murry CE, Chien KR, Kelley RI, Church GM, Parker KK, Pu WT. Modeling the mitochondrial cardiomyopathy of Barth syndrome with induced pluripotent stem cell and heart-on-chip technologies. Nat Med. 2014 May 11. [Epub ahead of print]
Coulombe KL, Bajpai VK, Andreadis ST, Murry CE. Heart Regeneration with Engineered Myocardial Tissue. Annu Rev Biomed Eng. 2014 Apr 24. [Epub ahead of print]