Chair's Welcome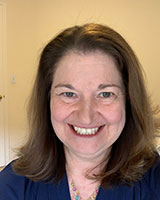 Dear Alumni and Friends,
Greetings from the University of Washington Department of Bioengineering.
I'm pleased to send you this update on our latest faculty hires and our advances in bioengineering research and education.
I hope you enjoy this issue. Please feel free to send your feedback to the editors at bioenews@uw.edu.
Sincerely,
Cecilia Giachelli, Ph.D.,Professor and Acting Chair
Department of Bioengineering
University of Washington
 Features
UW Bioengineering's newest faculty member Mike Averkiou starts January 5, 2015. Dr. Averkiou, who comes to UW Bioengineering from the University of Cyprus, develops ultrasound imaging and therapy technology, applying engineering precision to the biology of disease detection, improved cancer treatment and monitoring and ways to better deliver drugs to targeted cells.
Barry Lutz started as tenure-track assistant professor of bioengineering September 16. Dr. Lutz will establish an independent laboratory to develop affordable, accessible devices for detecting and treating disease in low-resource settings as well as develop and teach new courses. He will continue commercialization-driven projects to develop devices for treating hydrocephalus and other neurological conditions.
Human blood cells may be well understood, but the forces involved in blood clotting are not. Bioengineer Gianluca Interlandi, who joined the faculty July 1, as a research assistant professor, studies the molecular puzzle of how blood proteins interact with each other and other surfaces to stop bleeding and form clots.
Suzie Pun was promoted to professor September 16. Dr. Pun's research focuses on developing bioinspired materials to advance drug delivery and molecular imaging technologies. Dr. Pun will continue to hold the Robert F. Rushmer Professorship in recognition of her extraordinary service to UW Bioengineering.
What do at-home disease test kits, neuroscience and the fit of artificial limbs share in common? The researchers' dedication to serving the public good and improving health. We talk with three researchers  about the motivations for their work and the impact it stands to make.
Second-year Ph.D. student Nuttada Panpradist is confronting the world's largest public health problems. Working with Assistant Professor Barry Lutz, Nuttada develops diagnostic tests for diseases such as HIV and tuberculosis and hopes to increase access to affordable, accessible and sustainable tools that address urgent global health needs.
Juan Pablo Esquivel, a senior fellow in Professor Paul Yager's research group, led a team that received a $50,000 seed grant from the Bill & Melinda Gates Foundation at the 2014 Electrochemical Energy and Water Summit of the Electrochemical Society (ECS) to develop powerPAD, a clean water monitoring device using paper fuel cell technology.
The nation's graduate students have rated UW Bioengineering as having the second-best biomedical engineering program in the US, according to the Fall 2014 Graduate School Rankings recently published by Graduateprograms.com.
Bioengineers in the News
UW Bioengineering Professor and former department chair (2007-13)  Paul Yager presented at TEDXRainier in Seattle's McCaw Hall on November 22 and discussed how his research group is developing paper-based devices for diagnosing infectious disease, revolutionizing the world of medicine and increasing access to healthcare to everyone, everywhere.
UW Bioengineering Professor Valerie Daggett's research was featured in an article, "Innovative Medicine", published in the November 2014 issue of Alaska Airlines Magazine. The article discussed novel approaches to treating complex diseases currently being developed by Seattle-area researchers, and details Dr. Daggett's work designing peptides to neutralize harmful changes to proteins thought to have a role in amyloid diseases like Alzheimer's.
UW Bioengineering Associate Professor Albert Folch delivered the keynote talk at Duke University's Mahato Memorial Event November 19, an event that celebrates the intersection of art and science. He was also interviewed by Spanish-language NTN24 on November 25, and discussed his work with 3D printing and art.
UW Bioengineering Ph.D. students lead a 4-member team developing vHAB, a interactive virtual reality platform to rehabilitate stroke victims. The project was recently featured on a story appearing on the UW homepage as well as in a UW-produced video.
Not all swabs used in diagnostic testing are created alike: UW BioE Ph.D student Nuttada Panpradist is lead author of study published recently in PLOS One that offers a quantitative, objective analysis of a common, critical component of diagnostic tests for disease.
UW Bioengineering Professor Ruikang Wang's research is featured on the cover of the October 2014 issue of the journal Ophthalmic Surgery, Lasers & Imaging (OSLI) Retina. Dr. Wang, a noted innovator in the field of optical imaging, and collaborators published two papers in the issue investigating applications of OCT angiography.
Patrick Stayton's nanotechnology research mentioned in Alaska Airlines Magazine. "Big Potential in Going Small" explores the history of nanotechnology, its current application and Dr. Stayton's current work developing a nanotechnology delivery system to treat certain diseases, including liver cancer.
Bioengineers in Assistant Professor Kim Woodrow's lab have discovered a faster way to deliver a topical drug that can protect women from contracting HIV: a fiber material embedded with a potent antiretroviral drug, maraviroc, that quickly dissolves upon contact with moisture. The researchers suggest that this material works more quickly, is more effective and easier to use than other anti-HIV microbicides currently in development.
Awards & Honors
Buddy D. Ratner, UW joint professor of bioengineering and chemical engineering and Michael L. & Myrna Darland Endowed Chair in Technology Commercialization, was honored with the second-ever UW Medicine Lifetime Innovator Award on November 6.
David Castner, UW joint professor of bioengineering and chemical engineering, was named as the 2014 recipient of the Rivière Prize from the UK Surface Analysis Forum at the November 2014 American Vacuum Society International Symposium and Exhibition.
UW Bioengineering faculty Michael Regnier and Charles Murry (joint professor of pathology, bioengineering and medicine/cardiology) were named 2014 UW Presidential Entrepreneurial Faculty Fellows.
Ph.D. students nominated for HHMI International Student Research Fellowship
Ph.D. students Nuttada Panpradist (Lutz lab) and Ida Su (Stayton lab) were nominated by UW for the Howard Hughes Medical Medical Institute International Student Research Fellowship. Panpradist and Su join eight other nominees for the fellowship from the University of Washington. The HHMI International Student Research Fellowship is designed to facilitate the research training of outstanding international predoctoral students in the biomedical or related sciences.
Ph.D. student Peter Kim receives American Heart Association (AHA) Predoctoral Fellowship
Peter Kim, a third-year student in UW Bioengineering Assistant Professor Deok-Ho Kim's lab, recently received an American Heart Association (AHA) Predoctoral Fellowship Award. The award provides $50,000 to support Peter's research for two years. Peter is the second AHA fellow this year in Dr. Kim's lab; fifth year graduate student Alex Jiao received an award earlier in 2014.
Events
UW Bioengineering Professor Joan Sanders will present in the 2014-2015 Science in Medicine Lecture series. The series, presented on behalf of the School of Medicine and Council on Research and Graduate Education, features talks by UW Medicine faculty researchers and clinicians on topics representing the breadth and diversity of UW Medicine's cutting-edge research and clinical care.
More than 200 students, faculty and staff gathered in the UW's HUB Lyceum Room on, December 5th for the annual UW BioE Holiday Party to enjoy food, beverages and communal holiday spirit.  Special guest Michael Levitt, 2013 Nobel Laureate in Chemistry and December UW Walker Ames lecturer, was in attendance. Party attendees participated in the Bake-Off, Ugly Sweater Contest and more!
Health Innovators Collaborative Lectures
The Health Innovators Collaborative, in partnership with UW Medicine and the Washington Biotechnology and Biomedical Association, seeks to assist the health care ecosystem in Washington state as it adapts to the profound changes underway in American health care. An exciting array of informative and provocative seminars has been designed to bring the community of innovators, corporate and academic, together.
Read more